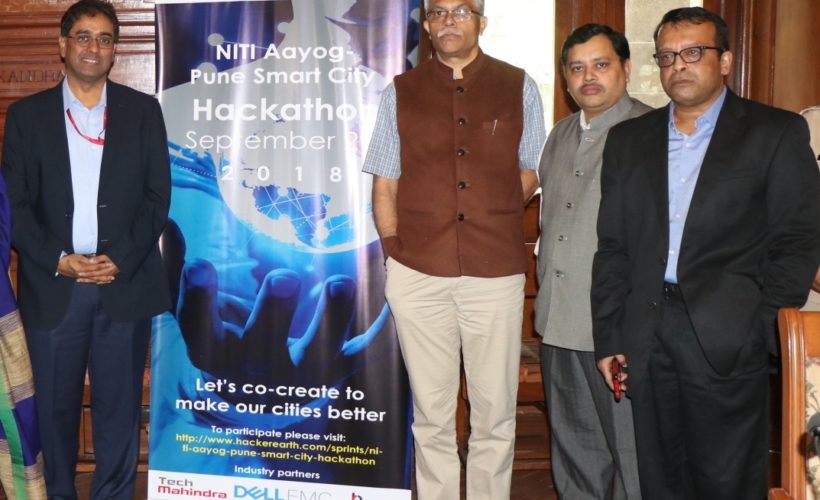 Tech Mahindra, a leading provider of digital transformation, consulting and business re-engineering services and solutions announced its collaboration with NITI Aayog and Pune Smart City Development Corporation to launch the first 'Smart City Hackathon' at the Pune University campus for developers and startups across India. 

Pune Idea Factory Foundation (PIFF), a wholly owned subsidiary of Pune Smart City Develop Corporation Limited (PSCDCL), has been set up as a non-profit organization dedicated to boost the start-up ecosystem in Pune. To drive its innovation agenda, PIFF has drawn a detailed roadmap encompassing multiple initiatives.

Commenting on the launch, Anna Roy, Advisor, Niti Aayog, said, "NITI is very happy to collaborate with Pune Smart City and a technology leader like Tech Mahindra to explore how frontier technologies can be leveraged to address city specific issues. The rate of urbanization being witnessed in India and given the commitment of the government to improve the quality of life of citizens it becomes very important to take such initiatives."
 
"Pune is a key center for Tech Mahindra, as the city has offered us both good talent and avenues to grow. We are humbled with this opportunity to serve this city through our core competency of technology, and facilitate a mélange of ideas to solve urban governance challenges.", said Jagdish Mitra, Chief Strategy & Marketing Officer, Tech Mahindra.
 
Dr. Rajendra Jagtap, CEO of Pune Smart Cityexpressed optimism at the development and said, "We are proud of our association with NITI Aayog and excited to partner with a technology leader like Tech Mahindra. We live in a technology driven era and there are greater opportunities than ever before to explore and innovate."
This announcement comes on the back of Tech Mahindra's continued commitment towards nation building and creating future ready sustainable solutions. As part of its TechMNxt charter, Tech Mahindra is focused on leveraging power of NewAge Delivey platform, co-create solutions to build a smart future. The much-awaited offline hackathon event will be held in Savitribai Phule Pune University campus on September 29, 2018.