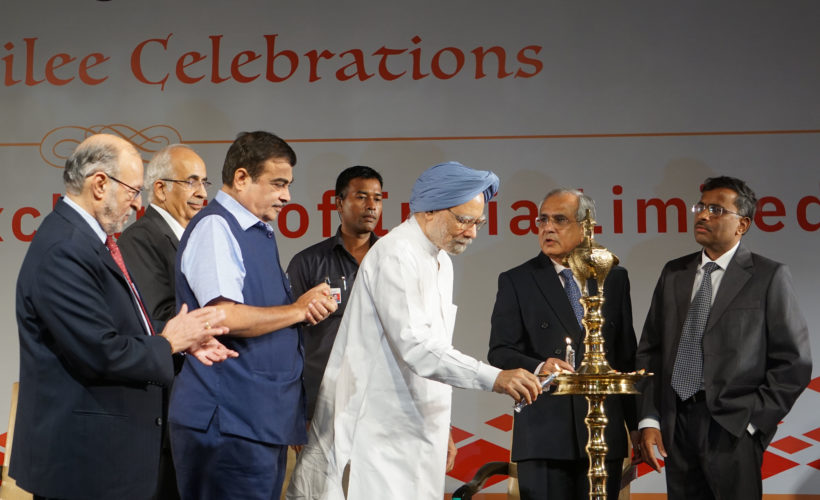 The National Stock Exchange (NSE), the third largest exchange in the world in terms of volume of trades, launched its silver jubilee celebrations and also unveiled its new brand identity.
President of India, Ram Nath Kovind conveyed his congratulatory message, stating, "I am happy to know that the National Stock Exchange of India Limited (NSE) is celebrating its Silver Jubilee in 2018-19. The NSE is one of the largest and most important financial institutions in India. NSE has been playing a pivotal role in providing a stable, transparent and globally trusted market platform that has encouraged Indian and global investors to trust the Indian capital markets. I hope NSE will continue to highlight the Indian growth story, improve investor awareness and, in the process, give a further fillip to the culture of household savings in India. "
Manmohan Singh, former Prime Minister, Government of India said: "On the occasion of the launch of Silver Jubilee celebrations, I congratulate the National Stock Exchange and all those who have been associated with the NSE for completing 25 successful years, and as one of the finest  institutions in India's financial sector. I recall the day, NSE was inaugurated by me as Finance Minister in 1994. That was the time for thinking aloud about the future of our country and there were many sceptics including those in the financial sector, and it is a good fortune of our country that the sceptics have been proved wrong. ''
Nitin Gadkari, Union Minister of Road Transport and Highways, GoI said: 'I congratulate NSE and those associated over the past 25 years for building a world-class institution. The National Stock Exchange over a period of last 25 years has not only built trust, credibility and transparency but also immensely contributed towards building India's economic and financial progress. "
Rajiv Kumar, Vice Chairman, NITI Aayog said: "I congratulate NSE for completing most illustrious 25 years, and I am sure that this would get even better in the next 25 years, as NSE would be part of and would be driving India's golden period of economic progress. ''
Speaking on the occasion, Ashok Chawla, Chairman, NSE said "It's a privilege to be part of this institution which has made India proud. The journey in becoming one of the world's premier Stock Exchanges spans market reforms, building of an entire market eco system, innovative products, services & technology. With the continued support of all the stakeholders including the Government and the Securities Regulator, SEBI, I am confident that NSE will reach greater heights in the years to come.''
Vikram Limaye, MD&CEO, NSE said, "This is a momentous occasion. NSE is an institution of national importance and has contributed significantly to the growth of the Indian economy and markets. The exchange is embarking on a new journey and the new brand iconography reemphasizes a new beginning, a more open, collaborative and a well-knit eco-system for the expansion of the financial markets and prosperity for investors at large. "
NSE was envisaged by the Government of India as an Exchange that would help democratise, expand and nurture a strong capital market eco-system in India.