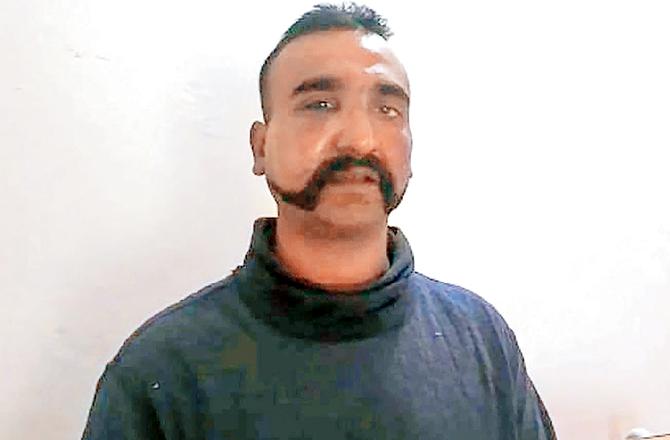 The Indian Air Force are very happy that pilot Wing Commander Abhinandan Varthaman who was help in custody by Pakistan will return home. They however dismissed suggestions that it was a goodwill gesture, saying it was rather in line with the Geneva Conventions.
"We are very happy Abhinandan will be freed tomorrow and look forward to his return," Air Vice Marshal R G K Kapoor, assistant chief of Air Staff, said at a news conference.
Varthaman's MiG 21 was shot and he left after bringing down two Pakistani F-16 fighters during a dogfight to repel a Pakistani attack on Wednesday morning, he said. He has been in Pakistan ever since.
Pakistan Prime Minister Imran Khan announced in Parliament on Thursday that Varthaman would be released on Friday as a peaceful gesture.
When asked if the IAF sees it as a goodwill move, he said that he saw it as a gesture in consonance with the Geneva Conventions.
While addressing the media along with the representatives of the Army and the Navy, Khan said that both the armed forces are on high alert and were ready to meet any security challenge on land and sea.
The conflict between the two countries escalated after Indian fighters bombed terror group Jaish-e-Mohammed's biggest training camp near Balakot deep inside Pakistan early Tuesday. It was 12 days after the JeM claimed responsibility for a suicide attack on a CRPF convoy in Kashmir, killing 40 soldiers.
The father of Indian pilot Abhinandan Varthaman, captured by Pakistan after an air combat, on Thursday said he was immensely proud of his son's bravery and thanked everyone for their support and good wishes.
In a statement, Abhinandan's father S Varthaman, who previously was an Air Marshall, referred to a video of his son after his capture, and said he spoke like a true soldier in spite of being in captivity and that he was praying he would not be tortured in the neighbouring country and return home safely.
In the evening India rejoiced when Pakistan Prime Minster Imran Khan announced that Abhinandan will be released on Friday as a gesture of peace.
The family of Abhinandan has an excellent track record. He has served the Indian Air Force for generations ever since the second World War and his father apart from being an ace pilot was also a consultant for Mani Ratnam's film "Kaatru Veliyidai".